Welcome to Kings Kloof Country House

Kings Kloof Country House is a luxury home away from home in Somerset West. A place for you to while your days away, either watching the eagles above playing chase with the birds, or washing the heat of the day with a dip in the sparkling pool. A stay with us is more than just a holiday – it's a place to decompress and be mesmerized by the magic of this luxury self-catering home in the Cape Winelands.
Inspired by a fusion of Cape Dutch and modern French Chateau architecture and design, Kings Kloof Country House offers restraint in all the right places and opulent indulgence in its spaces, finishes, and amenities.
For many of our guests, our home feels like it could belong on the cover of a lifestyle magazine, but yet it's delightfully relaxed and simple. Every detail has been thought through, from the hand sewn blinds, down to the beautiful crockery which makes your meals special.
Evenings are best spent sitting outdoors, watching the sun set over False Bay from heights few get to enjoy. Wake up to vineyard walks and protea trails bordering the Helderberg Nature Reserve, where King Proteas and Pincushions are bound to inspire. Pick a few and bring them back to the dining table where memories are made long into the night under the pergola next to a roaring fireplace.

Experience luxury living on a Somerset West wine farm, in a country house with the heart of a much-loved home. Take in the daily happenings of this family-owned working wine farm and escape the stressors of city life. Whether you're renting the Country House, the Vineyard Suite, or both, the spaces flow seamlessly together.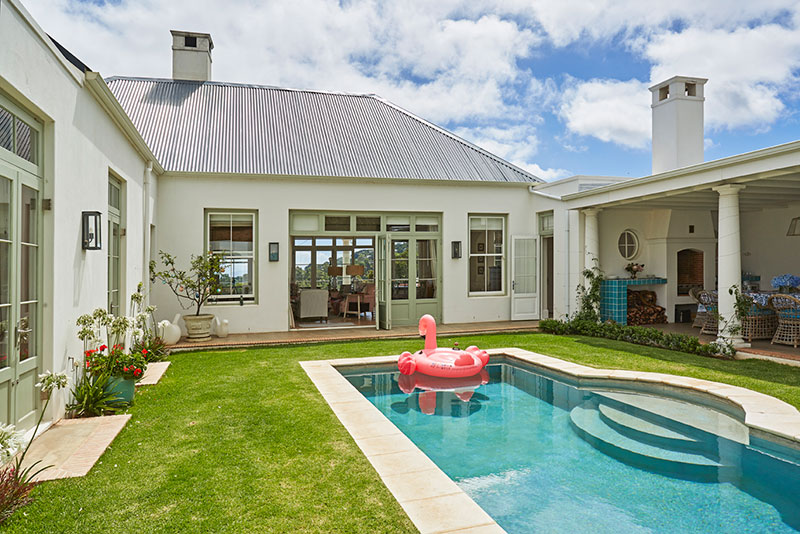 Synonymous with family reunions, getaways with friends, or simply just the two of you, Kings Kloof Country House has three spacious bedrooms which can comfortably accommodate up to six guests. Country House guests get exclusive access to the salt water pool, which is where afternoon rests are best enjoyed on a poolside lounger with a glass of wine in hand.
Underneath The Country House, and accessed via a flower-lined walkway, is The Vineyard Suite, which can be booked along with the Country House for group stays. In keeping with the Country House feel, this suite has everything one would need for a comfortable stay, and is best suited for a single person or couple looking for an authentic Winelands escape.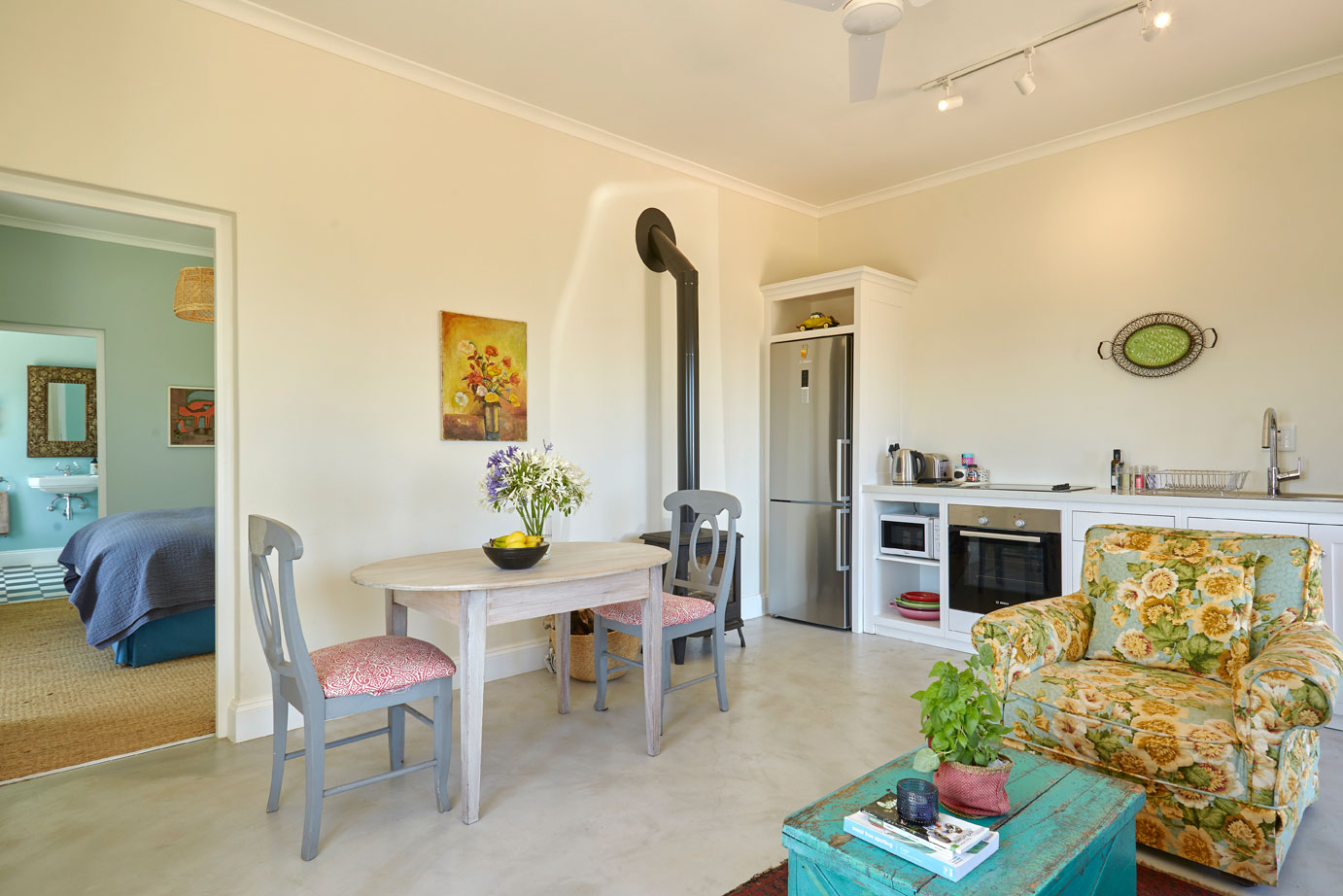 Kings Kloof Country House is surrounded by the working life of a family vineyard on the slopes of the Helderberg. If you're lucky, you may experience the thrill of grapes being hand-picked during the harvest season, where cool-climate vines create vintages that best reflect the elegance of the farm. During your stay, we can arrange a tasting of our limited release wines.

"Dear Penny, our stay here has been HEAVENLY! Like so many families around the world we were in dire need of a "reset" "pause" and a much needed holiday after a rather stressful 12 months during the pandemic. Our time here has been nothing short of soul food.

Thank you for your hospitality, for letting us experience the harvest and allowing us to lap up this luxury. We will most definitely return.
Penny went above and beyond to make our stay a memorable one – she helped us with recommendations, shopping and was always on hand if we needed her. It was my husbands 40th when we were there and Penny was kind enough to help organise a really special day.

We were so sad to leave this wonderful place, it felt like home away from home. A real example of excellent hospitality and a perfect place to stay and relax and unwind. You will absolutely love your stay here and make special memories like we did. We will definitely be returning ! "
"It is by far the best holiday house we have ever stayed in. The decor, the views, the beds, the sunsets, and your kitchen and its contents was the cherry on top. Not to mention the lush wine. Would 100% recommend!"
"Pen, this is a little piece of heaven and we do not want to leave! Your home is so bright and beautiful, with every thoughtful detail, and the views are absolutely stunning!"
"What a house! Views from every window and balcony, and the perfect place to relax. P.S. I want this kitchen!"
"We loved trail running above the property and just chilling with the awesome view and the fire going. Your wine is fantastic as well!"
Your home is a home away from home that we will forever cherish."

If you need further information, please feel free to contact Penny: